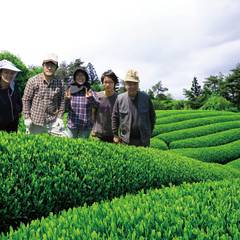 Takashi Kanai and his family
Azuma Tea Farm was founded in 1868, the first year of the Meiji era of renewal. Mr. Takashi Kanai is the 4th generation to develop this historic tea heritage.
Azuma Tea Farm is located in Wazuka, a few kilometers from the town of Uji, the birthplace of matcha.
On 5 ha, Takashi Kanai San and his family produce matcha, one of their specialties, as well as sencha, known as Zairai, from tea plants reproduced by seed rather than cuttings, each with its own genetic specificity and taste, and hojicha leaf and powder.