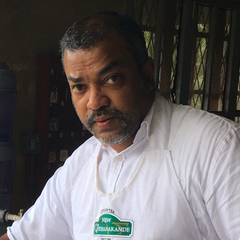 New Vithanakande is a family plantation taken over by the Pilapitiya family in 1940, a former British plantation named Delwala where the late Punchi Bandara Herath Pilapitiya, the founder of the Tea Estate, worked. The land was called Vithanakande, from Kande the mountain in Sinhalese, and Vithana from the Vithanage family who had been entrusted with these lands during the reign of Sitawaka Rajasinha (1581-1593). The term New was added by Navaratna Pilapitiya, the current CEO of the Tea Estate, when he took over the reins of the estate in 1981. He is now accompanied by his nephew Chamikara Pilapitiya.
The 13-hectare Tea Estate and its factory are located on a hillside 200 meters above sea level overlooking the UNESCO World Heritage Sinharaja Rainforest, and on the outskirts of Ratnapura, the legendary gemstone town. The factory, in addition to its fresh leaves, buys fresh leaves from a network of more than 6,600 small producers growing tea on the slopes of the valley.
As a low-grown tea (altitude below 600m), New Vithanakande's teas are elegantly crafted with body, due to the low altitude, and a freshness and an almost zesty freshness for the selected vintage FBOPFEXSP, brought by the fineness of the picking rich in silver buds, and the work at the factory.
New Vithanakande is one of those great classics that cannot be missed on many tea cards. It was one of my first crushes, concerning Ceylon teas, that I discovered more than 30 years ago and that continues to accompany me during the day, hence its nickname All Day T!