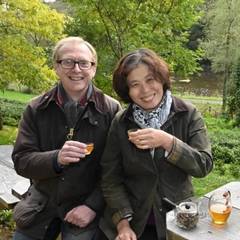 Weizi et Denis Mazerolle : Filleule des Fées
Weizi and Denis are the pioneers of tea plantation in France: a demanding activity open to the world, just like this passionate Franco-Chinese couple. The Filleule des Fées plantation takes root in the heart of the Blavet Valley, in Brittany. In 2006, Denis and Weizi planted 10 tea bushes in the middle of nature following a trip to China. The gardens now have 25,000 tea trees spread over nearly 3 hectares.
The Filleule des Fées camellias grow without fertilizers or pesticides, drawing on the acidic granite soil of Brittany. Its morning mists, its hygrometry and its climate make it an ideal place to grow. More than a hundred varieties are present in the plantation. They are the fruit of an entirely natural pollination.