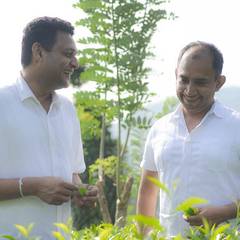 Chaminda Jayawardana and Harris Uddika
Lumbini Tea Valley is a family plantation that was planted and developed by Chaminda's father, Mr. Dayapala Jayawardana, in 1975 in the valley of the same name. The name Lumbini is a tribute to the name of the place where the Buddha was born in Nepal. Chaminda joined the family business in 2000.
The factory is located at 450m altitude surrounded by its own plantation spread over 120 ha of valleys, employing 250 people. It collaborates with 1600 small producers, each owning about one hectare of tea bushes, all located in the Lumbini Valley adjacent to the Sinharaja forest.
The Sinharaja forest reserve is a UNESCO World Heritage Site. It is one of the few primary rainforests on the planet rich in endemic species. This proximity to the forest creates a cool, misty, preserved ecosystem for the valley that is conducive to tea growing.
Lumbini Tea Valley has embarked on a path of ecological sustainability: elimination of chemical fertilizers and pesticides, conversion of the entire tea estate to organic farming since 2016, and initiation of small-scale producers with 60 pilot conversions to date, and biodynamic tests launched in 2022. Finally, royalties are paid to employees proposing new tea creations, as well as to producers for their agricultural practices supported by trainings managed by Lumbini Tea Valley teams.
Lumbini Tea Valley has been a close partner since 2017. Thanks to Chaminda and all its team for its trust.