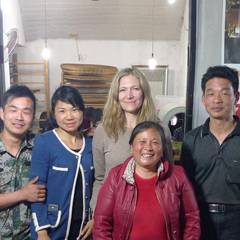 The Zhang family lives in Zhejiang Province at the foot of Mount Jing, a mountain range famous for producing the famous green tea Jing Shan Cha, literally Jing Mountain Tea.
They are all 4, the mother, the father, the son and the daughter-in-law to live of the exploitation of a forest of bamboo as well as a small garden of tea located in the heart of the Mount Jing.
Their garden is in fact "ecological" located on the side of the mountain, 1 hour walk through the bamboo forest before discovering this beautiful tea landscape free of pollution.
They harvest only in spring and are famous for producing a fresh and delicate green tea.
I discovered them thanks to Pascal Delot, a long time friend and source of small tea producers in China for more than 20 years.
I invite you to discover their tea in my store: Thé Vert du Mont Jing